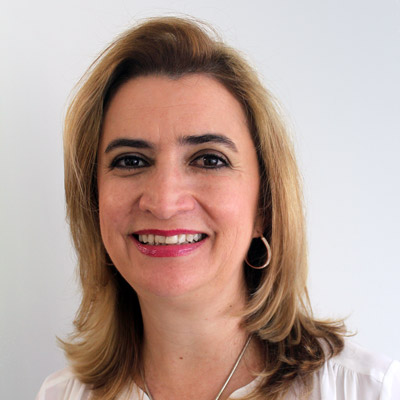 Claudia M. Hernandez Castro, B.S.
Director Clinical Operations U.S. North America & Latin America.
---
Mrs. Hernandez joined the ESTERN Medical CRO Group in 2008 with an extensive and broad clinical trials research and technical support training in the fields of cardiology, pulmonary and CNS areas. Bringing a diverse combination of R&D and scientific business expertise, encompassing both clinical and research training bringing more than 25 years of experience and expertise.
Prior to joining ESTERN Medical CRO, Mrs. Hernandez has held diverse senior positions in some of the top and most prestigious International Pharmaceutical & Medical Device Companies such a Siemens, Schering AG Pharma & Medrad, Inc.
At Schering Pharma Ag & Medrad, Inc. (now known as Bayer Pharmaceuticals) she was head senior executive manager for clinical R&D education training support, where she initiated a strategy that helped transform Latin America from a sales & distribution model platform company into a fully independent clinical development and training network structure for Latin America. Ms. Hernandez spent more than 10 years with Schering -Medrad Inc., culminating in her role with two of the most important company platforms: the Avanta cardiovascular interventional injector and most important the Stellant Dual Injector System for Multi-slice CT clinical support training for the Latin American region.
Prior to joining Schering Pharma Ag & Medrad, Inc. she was the senior manager of clinician MRI specialist for Siemens Medical Latin America, with diverse responsibilities from clinical R&D training through commercialization. Previous to her experience in the pharmaceutical & medical device industry, she endures her clinical experience as a chief of MRI technologist in Bogota, Colombia and as clinical physical therapist where she did practice as a clinician for more than 10 years.
Mrs. Hernandez is internationally well recognized for her broad expertise in clinical trials field, in some of the most prestigious pharmaceutical, medical devices companies and medical institutions in the field of cardiovascular, peripheral vascular diseases, interventional cardiology and diagnostic CT, MRI imaging.
Mrs. Hernandez holds degree BS in Clinical & Physical Therapy from the University of the Rosario in Bogotá, Colombia and Masters in Technical Diagnostic Imaging from the University of Santander in Bogotá, Colombia.