Our Therapeutic Expertise
ESTERN Medical Therapeutic Expertise group provides scientific and medical expertise for clinical development.
Our expertise is comprised from board certified physicians, clinical industry experts and certified medical institutions by regulatory agencies to be able to perform clinical trials by an International agency or MOH ministry of health.
Our group covers a broad range of therapeutic areas and provides ESTERN Medical staff with training and support during operational delivery of clinical services.
We provide services through all phases of drug development and, specifically, in the areas of trials designs, clinical monitoring, regulatory submission strategies.
Our diverse knowledge of therapeutic experiences varies from "Cardiology, Interventional Cardiology & Radiology, Oncology, CNS, Pain Management Psychiatry, Infectious Diseases, Ophthalmology and Diagnostic Radiological Imaging (CT/MRA & MRI)," and Orphan Diseases.
ESTERN Medical therapeutic areas vary from pivotal trials to more complex Clinical trial "Phases I, II, III through Phase IV". We have also executed diverse broad number of global international clinical trial studies that have been conducted across US North America & Latin America in Mexico, Colombia, Chile, Peru Argentina and Brazil
Our strength on each diverse therapeutic areas comes from our senior management land management staff members that are experienced connoisseurs in clinical pharmaceutical and medical device development for diverse treatment indications and our access to key opinion leaders (KOL's) and trial networks worldwide, our extensive proprietary investigator database and lastly, our global operational expertise in running multi-national trials regionally across "US-North America & Latin American emerging markets".
We have successfully managed diverse clinical trials in different studies across all phases of development in the US North America & Latin American (LATAM) emerging markets regions.
ESTERN Medical has recruited patients from targeted populations for studies in our core therapeutic areas, that are represented in this schematic pill.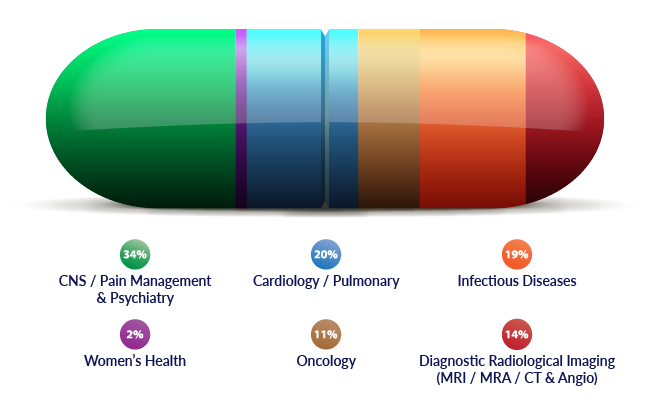 Our in-depth feasibility assessments reduce risk and increase the likelihood for study/program success. We have built strong relationships with key opinion leaders around the globe to gain local country knowledge for each trial. This first-hand understanding of local regulatory environments, customs, and other factors helps to ensure optimal trial planning and execution.
In addition to supporting every trial conducted by ESTERN Medical, our therapeutic experts perform stand-alone consulting services including:
Clinical development program and protocol design
Integration of scientific/clinical, regulatory, and economic development needs
Scientific Advisory Board formation and memberships
DSMB charters, membership
Training for core team members (e.g. CRAs, Project Managers, Clinician, Scientist, Physicians) for:
Disease background
Current standard of care/alternative treatment options
Basic diagnostics
Patient safety
Trial specifics to ensure that investigators' and clients´ needs are fully meet